Grand Theft Auto Coming To Android & iOS Devices NEXT WEEK


We have all experienced playing Grand Theft Auto, stealing, killing, and committing other unimaginable crimes on your Xboxs, Playstations, and even laptops, but you have never experienced these moment on your cell phones. Well all that will change on December 15. What if I told you, you now have the opportunity to commit crimes in Liberty City on your cell phone as well as you other gaming consoles?
RockStar Games has announced that they will be releasing a mobile version of Grand Theft Auto III dubbed Grand Theft Auto III: 10th Anniversary Edition. This new mobile edition of GTA III will be available on the App Store and the Android Marketplace starting on December 15th at a price of $4.99. According to VentureBeat.com and TechCrunch.com the Mobile devices are limited to the newest and top of the line devices. Look at the chart below to see if your device is GTA III compatible.
Apple iOS Devices: iPad 1 & 2, iPhone 4 & 4S, iPod touch 4th Generation
Android Phones: HTC Rezound, LG Optimus 2x, Motorola Atrix 4G, Motorola Droid X2, Motorola Photon 4G, Samsung Galaxy R, T-Mobile G2x
Android Tablets: Acer Iconia, Asus Eee Pad Transformer, Dell Streak 7, LG Optimus Pad, Motorola Xoom, Samsung Galaxy Tab 8.9 and 10.1, Sony Tablet S, Toshiba Thrive
This is a huge step and advancement in the mobile-gaming market. Very few games have been able to make a successful transition from gaming consoles to mobile gaming devices. Grand Theft Auto has committed fans around the world so this will be a great test to see if mobile devices have the technological capabilities to take over the gaming market or at least compete in it.
Remember to get your copy of Grand Theft Auto III: 10th Anniversary Edition right here at GIVEMEAPPS.com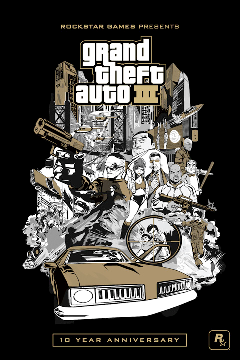 Jordan Banafsheha is a freelance web developer and blogger who loves all aspects of technology. You can visit his blog or contact him for information on his web development services.