With so many apps claiming to be the scariest, The Scary Mirror is the only one that I managed to finally scare my parents with. For 99 cents you can enjoy this app and start trying to scare your friends and family today!


Scariest Mirror Of Them All!


The Scary Mirror app has two modes, Mirror mode and Joke mode. Mirror mode uses the front-facing camera of your I-phone 4/4s and turns it into a convenient mirror. But then there's Joke mode, which is a much more devious version of a mirror. Without showing your friends the app, quickly position the front-facing camera at your unsuspecting victims face and tell them they have something on their face. If they fall for it, they'll be looking at themselves for a few seconds before a grotesque image bursts onto the screen accompanied by its own haunting, screeching sound effects. The images themselves aren't particularly scaring but the mere unexpectedness of them popping out is sure to catch a few people off guard. The app works best on the I-pad because of its bigger screen and louder speakers and connecting your device to speakers is sure to scare even the hardest targets. The app gives you two free default images with the option buying other images from with-in the app. You can view and preview the extra images before you decide to buy them.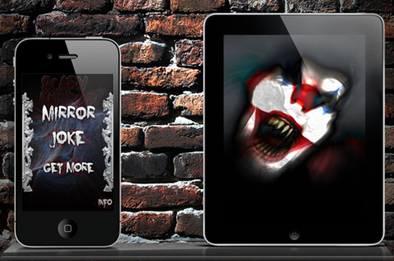 The app gives you the option of signing in with your Facebook and Twitter accounts so your friends can get in on the scary fun. I'd like to see more options available for this app with future updates, perhaps the option of having a game with-in the app that's actually a front for a quick scare as your prize. The app is only .99 cents and is definitely one of the better scary mirror apps available. For more information you can visit the scary mirror site by clicking here.


Christian Diaz is a freelance writer and tech enthusaist. You can follow him on Twitter.