The Coupons App-A Convenient Way To Find Savings At All Of Your Favorite Places

The Coupons App is a simple yet very useful Android app that lists the day's promotional codes, free stuff, discounts, and online coupons for various merchants. It covers the whole process of searching and finding coupon savings on stores, restaurants, gas stations and many more. Which means that, it contains a home screen Coupon Widget where you get real-time coupons throughout the day? Features include the ability to search coupons by title or barcode, submit coupons, and login to your account. If you own a business you can get your local deal listed in their database of discounts. Users can subscribe to the service as well as comment and rate the various deals and freebies in the list.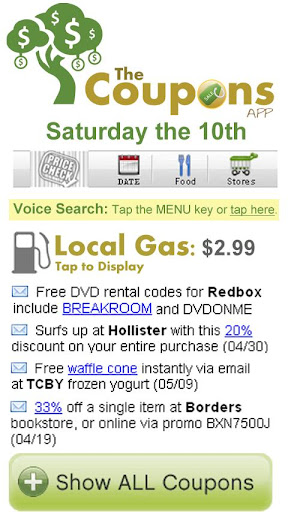 Making Coupons The "In" Thing.
It also contains a barcode scanner for easy price comparison among products. You can search coupons by typing it on the search bar or even by using Voice search. Some of the other great features, it uses the GPS to find cheapest gas stations nearby. You can print, share coupons via SMS, e-mail, Twitter and Facebook or save them into your own calendar.
A user-friendly interfaces lets you finding easily the coupons, you can save them or share them. The layout could be improved though, it's a bit messy. We're liked the screen widget and its constant updating.

The Coupons App Features:
Coupon WIDGET - Real-time coupons and daily deals throughout each day. Shopping has never been easier or more fun when the deals come to you!
GAS prices - Cheapest gas at local gas stations nearby. Gas pricing updates based on your current location - save money on gas whenever you fill up the car no matter where you are.
BARCODE scanner - Price comparison shopping tool.
SHARE Coupon - Text deals & email coupons, Twitter coupons, even coupon sharing onto Facebook!
VOICE search coupons - Fast, easy and hands-free coupon and product deal searching means it is now even easier to find exactly what you want at the lowest price available.
SAVE Coupons - Coupon to calendar, one-tap maps navigate you to the nearest venue, phone the nearest location shown in each coupon and much more! Coupons continuously update throughout each day, it's like a fresh coupon buffet at your fingertips! Place the coupon widget onto your home screen and preview coupons instantly as they become available.
SMS Text coupon & deals - share each deal coupon with any phone. You may even text each coupon to older analog phones without The Coupons App - Deals installed & on other carriers!
Search coupons and deals while shopping - Coupon & deal searching even while shopping in the store checkout line.
Redeeming coupons from The Coupons App - Deals is easy! Simply display coupon on your phone to cashier.
What more can you say? If you are looking for a way to get unbelievable savings, and who isn't? Then this is the ultimate must have Coupon App for you. It's now available in the Mall at a convenient price-free.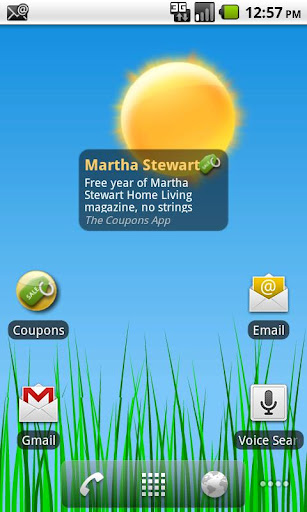 Wayne Tempel is a freelance writer and tech enthusiast. You can follow him on Twitter.