App Review: "Backstage" from Sound + Vision.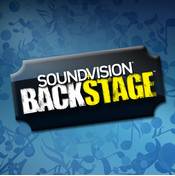 Sound+Vision's new Backstage app is a unique addition to the music category, offering a function that most other apps cannot. Backstage utilizes the users location based on GPS data as well as the songs on the device in order to determine concerts it thinks you might be interested in. One of a kind, it is the only app of its type that is international and will function synonymously in any country given a wi-fi signal on the device.
Once the app recognizes the users likes, a concert calendar appears on the main screen featuring the number of concerts per day that pertain to their interests in their area. Upon choosing a particular day, the user can view all of the concerts and what venue they are offered at. When selecting one specific concert, the individual is taken to the next screen that delves deeper into the artist, offering a bio and background information on the concert.
On this page, music fanatics and the like are able to play the artist's songs on Youtube, download the music directly onto their device, or purchase tickets. The great thing about this app is that all functions are performed "in app," allowing the user to have a seamless and carefree experience in one place. Another fantastic feature is that the developer formed no monogamous partnerships with any one ticket provider so literally any concert that is available in the area pertaining to the users likes will appear and can be purchased. This is truly an app for the traveling music lover and band groupie at heart!
Search For And Download Your Favorite Apps In The App Mall at GiveMeApps!

Amanda Alimo is a freelance writer and tech enthusiast. You can follow her on her blog.