Bouncing Balls is one of the most fun and addicting games we've ever come across for Android. This is one of my personal favorites. I myself have always been a big fan of the simple easy to use game, which continues to operate flawlessly all of the time. Who doesn't like an app that consistently runs without glitches? A really entertaining game that doesn't require more concentration than you can handle, keeps you busy and it's a lot of fun.
Bounce Those Balls
If you are you ready for the most addictive bubble shooter games ever, that's also a

highly popular bubble shooter game, then this is the game for you. It's finally available in the Mall (free and made by Yepi) for you favorite Android or iOS device. The original, painfully addictive Bouncing Balls match-3 game in full mobile version.
Some of the features included within the game include:
A special bubble buster version, especially adapted for your Android phone, a friendly match-3 bubble game that suits all ages, from young to old and

a new online high-score table, compete with bubble gamers from all over the world
Playing simply requires 
tapping where you want to direct the ball, creating groups of three or more balls to make them disappear and

clearing each level before time runs out!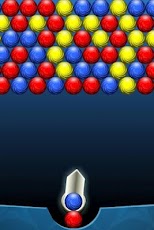 Wayne Tempel is a freelance tech writer and enthusiast.