Unlock Your Cell Phone With UnlockCellPro

Are you unhappy with your current cell phone provider? Would you like to use a certain phone on your current plan, but can't due to carrier lock restrictions. At times, we have all encountered these concerns. I think that whenever a manufacturer distributes a phone to the carrier, it should be unlocked. However, that is not the case. You can get an unlocked cell phone, but you will end up paying double, if not triple the value of the phone. The carriers know this. Fortunately so do the good folks at UnlockCellPro.com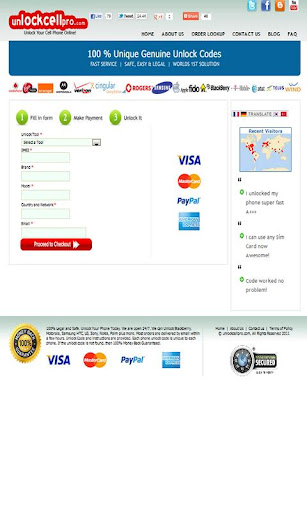 They are here at your convenience to help. Their newly released app is made freely available and can unlock virtually any phone, from any manufacturer and from any carrier. The best part about it, it can be done in just a few minutes. There's no need for you to call your cell phone provider and spend hours on the phone to ask to them to do it. They will only tell you NO.

What does unlocking mean? The term "Unlocking" refers to removing the SIM CARD restrictions enforced by carriers on GSM mobile devices. SIM Locks may also be referred to as the Network Lock, Service Provider Lock or Subsidy Lock. How does it work? People began to realize that since the device has a LOCK, it must have a KEY? Right? If you've had this assumption, you are absolutely correct. However, like a safe, each device has its own unique key, based on an algorithmic calculation and the device's personal serial number (Imei or Esn).These keys are usually stored by the manufacturers and or by the carriers.

Here in America all of the major manufacturers from LG, Rim, HTC, Motorola, Nokia, Samsung and Sony Ericsson leave the restrictions up to the carrier for the subsidy codes, at their discretion. The carrier sends the clients back to the manufacturers, in a vicious circle of agony. This makes it quite difficult for the consumer to unlock his/her phone. Have you ever called your carrier and asked to have your cell phone unlocked? It's something that they are not willing to provide, even though you've paid for the device and it's yours. What are you waiting for? This app is now here in the mall. I guarantee, it can unlock your cell phone. Give it a try!