Research in Motion, Motionless
RIM, the company which manufactures BlackBerry mobile devices, is being accused of copyright infringement by a New Mexico firm – just days after RIM announced the arrival of their latest operating system, BBX.
Basis International, located in Albuquerque, New Mexico states they already trademarked the "BBx" name for their own software language, database and tool set. The firm said it has thousands of product licenses installed worldwide with the "BBx" prefix that run on Windows, Linux and Mac operating systems, among others.
"Our patent attorney has sent them a cease and desist letter, invoking the U.S. trademark act ... requesting a response by October 31," said Basis Chief Executive Nico Spence. "Failing that, we'll take the next logical legal step."
The shifter inside Research in Motion has been stuck in reverse as of late. Profit warnings, failed products and mismanagement have all added to the negative complexity of the once exclusive mobile provider. And let us not forget the recent B-Berry Blackout of 2011 that caused a global outage of Berry service for three days.
While legal action in this case may never come to fruition, lawyers around North America are researching possible class-action lawsuits against RIM stemming from the BlackBerry outages last week. Tens of millions of users around the world reported losing e-mail and messaging capabilities causing them to revert back to the Dark Ages of AIM Instant Messenger and telephones.
RIM's BBX is set to replace the archaic software that powers current "rotten Berries," with a package built around the QNX system – hence the new, semi-illegal name. There's no question that RIM sees BBX as their Lady of the Lake and hopes it will help them reclaim some of the mobile marketplace stolen by the likes of Google and Apple. Is that the case? Hardly.
Is anyone still on Berry for non-work-related reasons? If so, we'd love to hear from you. We'll also understand if you'd like to remain anonymous. (insert BBM hush face here)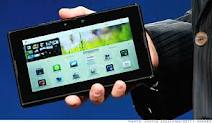 Kyle R Sharick is a freelance writer who has contributed to many articles on the web. You can follow him on Twitter, or read his Blog